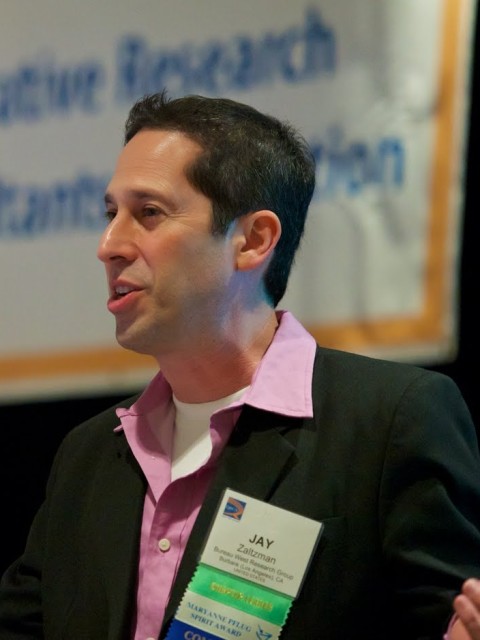 Jay Zaltzman knows how your customers think
Jay helps people who want to better understand their customers and make their marketing more effective. After talking to thousands of customers over the past twenty years, Jay Zaltzman knows how to get customers to choose your product, whether they are moms or business executives, professors or truck drivers.
Jay gives keynote speeches, conducts workshops, and provides corporate training sessions.  He always tailors his programs so they are specifically relevant to attendees and they walk away with actionable ways to improve their marketing immediately.
 "I am happy to recommend Jay Zaltzman as a speaker. He is charismatic: he connects with people and truly knows how to keep an audience's attention. He also did a great job tailoring his presentation to our attendees' interests. And he was very accommodating – a pleasure to work with."
- Julie Cygan, Vice President, Meeting and Event Management, Ewald Consulting

Program topics include:
Mind Control: How To Get Customers to Choose You
What separates successful marketers from the rest: their secret lies in how they combine rational and emotional appeals
The sub-conscious motivators that control customers' decisions… without them knowing it!
Learn how to connect to customers' emotions and use those emotional motivators to craft effective marketing messages
Real-time exercise: uncover your customers' motivators and create more effective marketing starting today


Customer Experience: Your Secret Weapon
How to use customer experience to get more customers, slash customer churn, and increase word-of-mouth referrals
Customer experience for the rest of us: it's not just for technology companies and mega-corporations.  How you can develop a customer experience program at your company today
How to get customers to feel personally connected with your company
 
Take Customer Experience to the Next Level
We all want to know how customers think.  But the most important motivators of customers' actions aren't thoughts, they're emotions and subconscious instincts… even though they don't realize that fact
Once we uncover customer emotions and instincts, we can create a truly superior customer experience
Customers crave a "personal" relationship with the companies they do business with.  How to develop those relationships in a digital world

There are Only 24 Hours in the Day: Marketing for Small Businesses
Sales, content marketing, Google Ads, Facebook pages, customer experience: with so many marketing tactics, how can a small business cover them all?
Step-by-step process to figure out which marketing channels work for your specific organization
Interactive exercise for attendees to develop effective marketing messages

To book Jay Zaltzman,
email him directly (click here)
or call 818-588-6050